Raptors Put Fire and CO Safety Centre Court
Media Downloads
Launch Media Release will be posted 9:15 am Wed, Dec. 7
Launch Photo 1
Photo 1 Caption: Raptors' stars DeMar DeRozan and Cory Joseph have been named Fire Safety Ambassadors in the Fire Marshal's Public Fire Safety Council's "Make The Winning Shot for Holiday Fire and CO Safety" Campaign. #FireSafetyWinningShot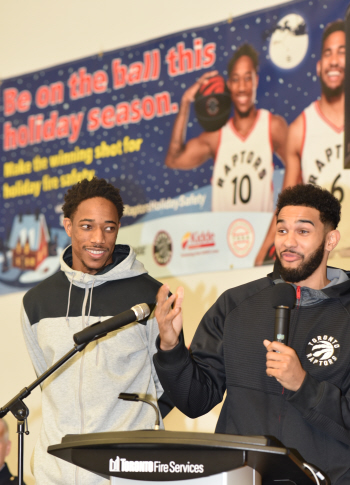 Photo 2 Caption: Raptors' stars DeMar DeRozan and Cory Joseph have been named Fire Safety Ambassadors in the Fire Marshal's Public Fire Safety Council's "Make The Winning Shot for Holiday Fire and CO Safety" Campaign. DeRozan and Joseph 'tipped off' the campaign today at the Toronto Fire & Paramedic Services Training Centre.with the Honorable David Orazietti, Minister of Community Safety and Correctional Services, and Ross Nichols, Fire Marshal of Ontario & Chief of Emergency Management.
Web Graphic 1
Web Graphic 2
Tips PDF with link to Quiz
For Immediate Release
Toronto Raptors Invite Everyone in Ontario to 'Make the Winning Shot' for Holiday Fire Safety
Toronto, Dec. 7 — The Fire Marshal's Public Fire Safety Council (FMPFSC) invites everyone in Ontario to "Be On The Ball This Holiday Season" as part of its province-wide fire and carbon monoxide safety campaign featuring Canada's NBA team, the Toronto Raptors.
Two of the Raptors' biggest stars – DeMar DeRozan and Cory Joseph – have been named Fire Safety Ambassadors for the "Make the Winning Shot" campaign, which was officially launched today at the Toronto Fire & Paramedic Services Training Centre.
More than 100 Fire Service Professionals from across the province attended the campaign launch event today. The campaign's goal is to help to put an end to the tragic cycle that often sees a big rise in fire and CO incidents and deaths during the month of December.
DeRozan, Joseph and their teammates have been hot on the court and that's where the Fire Marshal's Public Fire Safety Council wants to see the heat – not in people's homes. DeRozen and Joseph will be featured in ongoing social media activity throughout the holiday season featuring daily fire and carbon monoxide tips and a helpful "Make the Winning Shot" quiz offered on the tips web site, safeathome.ca/raptorsholidaysafety. The hashtag for the campaign is #FireSafetyWinningShot.
The entire Raptors' organization is getting behind the effort along-side other leading fire and CO safety organizations including, Kidde Canada Smoke and CO Alarms, the Technical Standards & Safety Authority (TSSA), and Enbridge Gas Distribution.
Householders who complete the online quiz will have a chance to win Raptors tickets, autographed jerseys, basketballs, and a shot for one child to hand out the game ball at centre court. For extra chances to win, contest entrants are invited to share the quiz with their Twitter followers.
Now through to December 24th @safeathometips, @raptors and @ FMPFSC will Tweet or Retweet daily tips about key factors that can help keep families fire and CO safe over the holidays. Unattended cooking and expired or discounted smoke and carbon monoxide alarms, improper use of candles, dangerous placement of space heaters, overloaded holiday lighting are the biggest areas of focus in this effort. Fire Departments throughout Ontario will run their own grass-roots Raptors program, including special events at area malls and other venues and will distribute Raptors tip cards.
The Honorable David Orazietti, Minister of Community Safety and Correctional Services, says "Our province's fire fighters and fire services work hard over the holidays and throughout the year to keep us safe from the dangers of fire and carbon monoxide. Keep fire safety in mind as you prepare for this year's festivities to ensure your family enjoys a safe and happy holiday season."
DeMar DeRozan, Raptors shooting guard, said it best, "The Raptors believe that a good offense is often the best defense. The same is true in your own home when it comes to being properly prepared for home fires and carbon monoxide poisonings."
Raptors point guard, Cory Joseph says, "DeMar, myself and the entire Raptors organization are thrilled that our province's firefighters are making this a safer holiday season. We're confident that, with the support of our amazing fans, this campaign will be successful."
In the Province of Ontario, working smoke alarms are required by law in every household, one on every storey and outside all bedrooms. Carbon Monoxide alarms are also required by law in the province, outside sleeping areas in all homes that have any type of fuel-burning appliance or an attached garage. All smoke and CO alarms wear out, including hard-wired models, and must be replaced according to manufacturers' recommendations.
SAFETY STAKEHOLDERS SPEAK OUT ABOUT HOLIDAY
FIRE AND CARBON MONOXIDE RISKS
Ross Nichols, Fire Marshal of Ontario & Chief of Emergency Management
"We hope all of the Toronto Raptors' fan-base complete the Holiday Safety Quiz – and tell their friends about it – that will be a great way to spread the word about fire safety and the dangers of carbon monoxide. Let's all work together to keep each other safe throughout the festive season."
Carol Heller, Home Safety Expert
Kidde Smoke and CO Alarms
"The holiday season is all about family, so it's the perfect time of year to put safety at the forefront. Make a three-point shot by ensuring all alarms are powered and working, and, by replacing all smoke alarms over 10 years old and any carbon monoxide alarms made before 2009."
John Marshall, Statutory Director, Fuels Safety Program, Technical Standards and Safety Authority
"Furnaces, fireplaces, and other fuel burning appliances, get heavier use during the cold months, and usage typically peaks during the holiday season. Keep yourself and your loved ones safe by ensuring all your fuel-burning appliances are inspected and maintained annually by a TSSA-certified heating technician. If your appliance fails, call a professional. Appliances specified for outdoor use should never be used in your home or garage, even during power outages as it can lead to deadly carbon monoxide exposure.
Mike Mees, Director Customer Safety & Compliance
Enbridge Gas Distribution
Don't take chances with your family's safety this holiday season. Carbon monoxide is odourless, colourless and a leading cause of accidental poisonings in Ontario every year. Protect against the dangers of carbon monoxide by having your fuel-burning appliances inspected annually by a certified technician and installing carbon monoxide alarms on every level of your home."
FOR OFFICIAL RAPTORS' CAMPAIGN GRAPHICS AND TIPS DOWNLOADS VISIT http://safeathome.ca/raptorsholidaysafety/media/
– 30 –
For more information contact:
Conrad Galambos 905.979.7039, [email protected]